Our unique Project Management Service supports you and your organisation in the co-ordination, planning and control of your individual project(s). Our expert team, skilled project management and governance process ensures all standards are adhered to, and that minimal supervision, on time delivery, risk management and action resolution through-out your organisation is an absolute priority.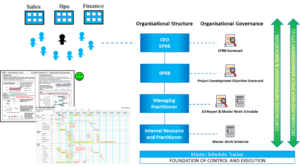 TCMUK Governance Review Process

Our team of skilled PMS Practitioners cover all interventions including, Capital Equipment, Lean Projects and Programmes, Equipment Upgrades, New Product Introduction, Factory Layouts, Site Re-locations, Implementation of New Systems and Procedures and much more…
Sometimes you may just need a short, rapid ROI project and need a practitioner to invest the time you don't have available, other times you may need a practitioner(s) that have the specific expertise to help you transform your business for a longer period. We have differing models for differing needs, please contact us to discuss.

📞 0330 311 2820
Book a Return Call at a time that Best Suites You "HERE"
So why is Project Management Important?
It tracks your projected benefits against customer requirements
It defines expected timelines
Uses your resources efficiently
Identifies and helps solve problem areas and risks
Improves organisational communication
Ensures project scope and objectives are clear
Eliminates duplication of effort
Project management is balancing competing demands for:
Cost (resources)
Scope (quality/performance)
Time (schedule)
We use a number of tools in our TCMUK-PMS service to ensure customer satisfaction and project delivery, these include
Hard Tools
Executive Performance Review Board (EPRB)
Project Charter / A3 One Page Plan
Work Breakdown Structure (WBS)
Network Analysis
Critical Path
Gantt Charts (Timelines)
Matrices for assigned responsibilities
Soft Skills
Leadership
Change Management
Teamwork
Communication
Negotiation
Influencing
📞 0330 311 2820
Book a Return Call at a time that Best Suites You "HERE"