(to see our Lean Interventions and Case Studies 'Click Here')
Lean Manufacturing is not just a set of tools and techniques to be applied at every process within your organisation, this has a limited result! Lean Manufacturing is about changing the story of your industry, your business, your work, your people and yourself for the better. It's about learning, doing, problem solving, putting the customer fist.
We'll help you implement a Lean Strategy that develops your Competitive Advantage and Customer Value. Over the 25+ years working with Lean Manufacturing, Six Sigma and Theory of Constraints we have created our unique TCM-E5 Methodology (Examine, Evaluate, Engineer, Execute, Expand) that enhances the impact of your Improvement Interventions and delivers measurable and sustained business performance.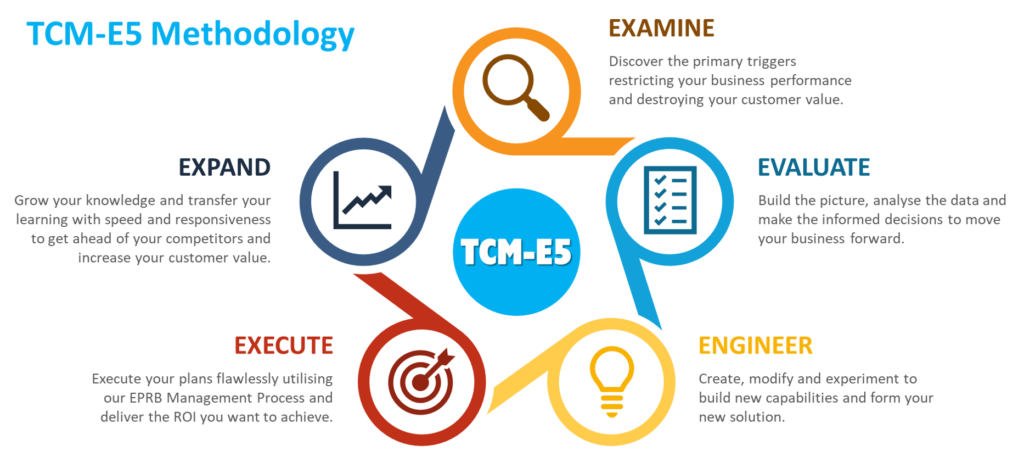 Companies that fully commit to Lean and our TCM-E5 Methodology dramatically outperform their competitors over time. In getting as close as possible to where your work is being done, leading from the ground up to first find what your real problems are, you can then face and resolve the underlying challenges.
Lean Manufacturing Benefits
REDUCED LEADTIMES!
REDUCED COSTS!
INCREASED CUSTOMER VALUE!
HIGHER PROFITS!
MORE BUSINESS!
But how?
Quality performance, fewer defects and rework (internally & externally).
Fewer Machine and Process Breakdowns.
Lower levels of Inventory.
Greater levels of Stock Turnover.
Reduced Lead-times
Less Space Required.
Reduce Costs
Higher efficiencies, more output per person hour.
Improved delivery performance.
Increased Agility and Flexibility
Greater Customer Satisfaction.
Improved employee morale and involvement.
Improved Supplier Relations.
And more..
(to see our Lean Interventions and Case Studies 'Click Here')
Everything you do must ADD CUSTOMER VALUE, If it DOES'T ADD VALUE IT'S WASTE. If it's waste, it will impair delivery to the Customer. If it's waste, it's adding cost. If it's waste, it's causing frustration on the front line. Utilising our TCM-E5 Methodology (Examine, Evaluate, Engineer, Execute, Expand) mixed with Lean Strategies means you and your business maximise your opportunities in creating measurable and sustained business performance.




Recognising that "the market determines the selling price and that levels of profit are determined by your costs" is fundamental to understanding what is required to make a business successful. Look at your processes through your customers eyes, specifying value from your customers point of view.
If you can operate a manufacturing system containing processes which achieve excellence in these 7 areas of performance…
MINIMISE LEAD-TIME
MINIMISE VARIATION
MINIMISE WASTE
MAXIMISE FLEXIBILITY
MAXIMISE QUALITY
MAXIMISE EMPLOYEE CONTRIBUTION
CONTINUALLY IMPROVE
…you can be confident that your company and its products will be able to compete in world markets. The manufacturing processes of your business are the wealth-creating processes and also the processes which consume the majority of the resources, so they are a good place to start.

📞 0330 311 2820
Our Lean Interventions and Case Studies
As part of our continuous support to the SME Manufacturing Sector we offer monthly payment plans on certain interventions to help spread your costs and manage cash flow. To qualify you have to be a Manufacturer with Fewer than 100 employees and a turnover less than or equal to £10 million.
(photo's of Customer projects can be seen at the bottom of the page)
LEAN PRACTITIONER SUPPORT
Our Lean Manufacturing Practitioner works hands-on alongside you and your internal talent, implementing, supporting, coaching and mentoring aligned to your needs.
This can be Daily, Weekly, Monthly ensuring you have access to a specialist skill set to help reduce costs and grow your competitive performance.
Contact Us 'Click here'
VALUE STREAM MAPPING (5 days On-Site)
A VISUAL tool that shows ALL elements that go into manufacturing a product as it progresses through the value stream, i.e. PROCESS (how it's made), MATERIAL (Is it pulled or pushed), INFORMATION (what to make & when)
Why Value Stream Map? Improve the total manufacturing process – NOT JUST ISOLATED AREAS, Focus on costly wastes OVERPRODUCTION & INVENTORY by following manufacturing flow, Looks at 'VALUE' through the customers prospective.
Payment Plan Available (Terms Apply)
Contact Us 'Click here'
VALUE ADDED VALUE ENGINEERING (4 Days On-SITE)
VA/VE workshops focus on reducing costs, improving function or both, by way of teamwork-based product evaluation and analysis.
This workshop methodically evaluates the product in a range of areas. These include costs, function, alternative components and design aspects such as ease of manufacture and assembly.
Payment Plan Available (Terms Apply)
Contact Us 'Click here'
ACHIEVING QUICK CHANGEOVER – SMED (4 days On-Site)
S.M.E.D. is the reduction of tool changeover or resetting times to within a single digit number of minutes (9 or less).
Objectives: More frequent changeovers, Increased flexibility, Reduced batch sizes, Increased capacity
Payment Plan Available (Terms Apply)
Contact Us 'Click here'
SHORT, HIGH IMPACT INTERVENTIONS – KAIZEN EVENT (12 Days On-Site)
Short, High Impact improvement projects have a specific objective, this may be, 5S and Visual management of an Area or Pilot Cell, Process Improvement, Layout Optimisation, TPM Activity, Supply Chain Improvement and more.
The intervention consists of Training, Planning, Current State Analysis, High Impact Focused Activity, Follow-up and Close off of Actions.
Payment Plan Available (Terms Apply)
Contact Us 'Click here'
SME MANUFACTURER
£7.5m Turnover
Layout Optimisation and Flow – Increased Output by 30%, Reduced Cycle Time by 53%, Reduction in Distance travelled by 92%
TCMUK Practitioner working alongside an internal implementation team to deliver a set objective over a 4 week period.
Case Study: Learn More
SME PRECISION ENGINEERING
£45m Turnover
Operations, Sales and Systems Improvement – Increased Sales by 20%, Delivery by 33%, Efficiency by 28%.
Combination of Workshops and full time TCMUK practitioners for implementation of new methodologies and processes, including Policy Deployment, Control Rooms and Lean Manufacturing over a 9 month period.
Case Study: Learn More
Additional Customers Results and Case Studies
📞 0330 311 2820