OPERATIONS ACCELERATOR PROGRAMME
Systemise what you have built and set the stage for your future Growth
---
🗹

BUSINESS DIAGNOSTIC
🗹

OPERATIONAL SYSTEMS ASSESSMENT
🗹

IMPROVEMENT PRIORITIES IDENTIFIED
🗹

CREATE YOUR IMPLEMENTATION PLAN
🗹

ROBUST ACTION & KPI TRACKING
🗹

PROJECT COACHING & MENTORING
🗹

TURN THE DIALS ON YOUR BUSINESS PERFORMANCE
🗹

ACHIEVE MORE FASTER
Monthly Payment Plans and Potential Funding Available
(Terms Apply)
This programme helps you build the robust systems and processes you need, developing your operations to deliver predictable, repeatable outcomes allowing you to really tap into the horsepower of your business.


ARRANGE A QUICK CALL HERE, NO SALES PITCH JUST TALK

All our programmes apply the our E5 methodology and Critical Milestone Structure. The Critical milestones are Day 1, 10, 30 60 & 90, the E5 Methodology (Examine, Evaluate, Engineer, Execute Expand) is applied at relevant stages of the process to discover what value really means to you and your customers and where your value delivery is better than your competitors, it shapes better ways to work and discovers innovative solutions.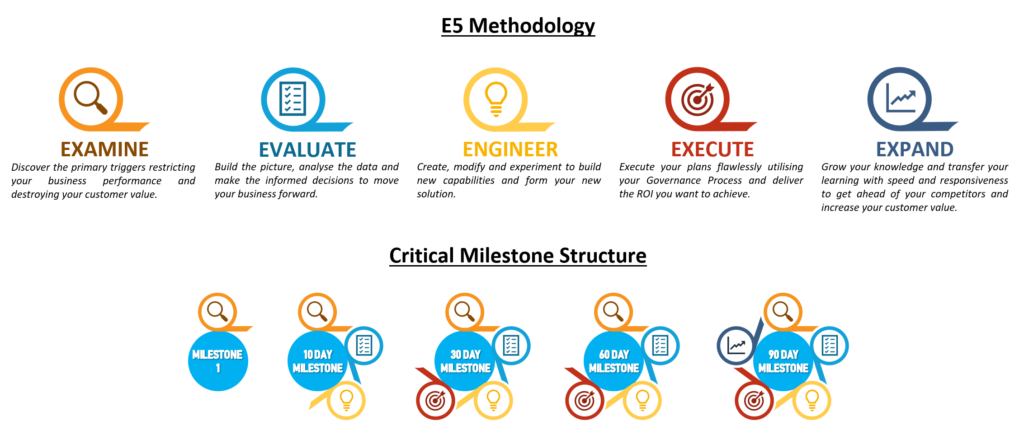 DOWNLOAD – '17 QUESTIONS TO ASSESS YOUR BUSINESS OPERATIONS'

📞 0330 311 2820