Benefits of Policy Deployment
When your overall direction is clearly understood and deployed to everyone within your organisation, the following benefits can be realised:
Sharpens your organisation's capability for execution
Builds management buy-in and teamwork
Develops a process to measure your monthly progress.
Ensures that your resources and priorities are strategically and tactically aligned
Fosters a long-term commitment to achieve your vision
Creates responsive and flexible planning and implementations
📞 0330 311 2820
Book a Return Call at a time that Best Suites You "HERE"
Operationalise your Strategy with Policy Deployment (Hoshin Kanri)
Policy Deployment is a method devised to capture and cement your objectives, it can also give flashes of insight about the future and develop the means to bring these into reality.
It's a planning and implementation process which:
Identifies the few, long term breakthrough objectives that are critical to long term success of the company
Links major objectives with specific action plans throughout the organisation
Focuses and aligns the company's internal organisations to achieve long-term objectives
Turns strategic plans into a year – over – year action plan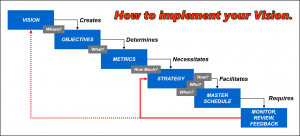 (Operationalise Your Strategy Article "Click Here" Free Swipe File "Click Here")
Many companies develop robust strategies, they tend to develop sophisticated processes, analyse possible scenarios, and define the future focus of their activity that will ensure their growth.
As defined as this direction can be, however, it can easily fail to take you to your destination when deployment problems occur (which they naturally always do). This is where I make the statement you must apply a rigorous PDCA Management behaviour to the process.
If we look at this common situation in terms of Plan, Do, Check, Act, we see that the important planning (P) phase is thoroughly covered, but that the doing (D) doesn't get enough attention and that the checking and adjusting (C and A) phases are simply absent.
Forrester reports 74% of firms say they want to be "data-driven," but only 29% are truly successful at connecting analytics to action.
Talk is cheap… not turning insights into actions and processes can cost you plenty… as much as 10% in lost operating profits.
Forget all the meaningless buzzwords and fancy dashboards, you need context and a trackable action plan to drive real performance improvements.
(Operationalise Your Strategy Article "Click Here" Free Swipe File "Click Here")
"I've implemented this process within most of the businesses I have worked since 1997, in the last as a Senior Exec across 38 sites globally with a financial improvement of £21m in it's first year" – Adam Payne

📞 0330 311 2820
Book a Return Call at a time that Best Suites You "HERE"